Goals
Enhance partnerships between hospitals and health departments
Improve efficiency, quality, and standardization of community health assessment data collection and reporting of data and plans
Encourage strategic investment of community resources to address priority health issues
Catalyze and coordinate action among existing and new assets and initiatives to address priority health needs
Monitor results to improve process, quality, and health outcomes
Promote accountability of hospitals and public health agencies
Local Efforts & Regional Value
Community health improvement (health assessment, planning, action, and evaluation) in western North Carolina is a locally-led and implemented process. This regional initiative is designed to support and enhance local efforts by:
Standardizing and conducting data collection
Creating reporting and communication templates and tools
Encouraging collaboration
Providing training and technical assistance
Addressing regional priorities
Sharing evidence-based practices
We are using the "collective impact" vision and framework to help guide our work on the community health improvement process. To dig deeper, we are applying the common language and planning, monitoring, and evaluation framework of Results-Based Accountability™.
Partners
WNC Healthy Impact is a partnership and coordinated process between hospitals, public health agencies, and key regional partners in western North Carolina. The green circles represent hospitals and the blue circles represent health departments.
Click below to learn more about each of our valued partners.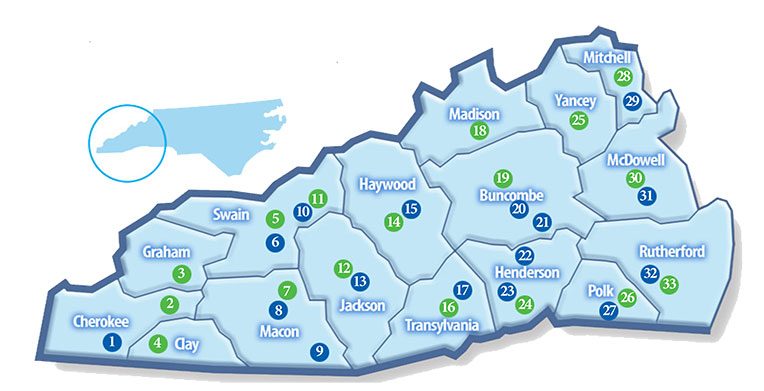 1
Erlanger Murphy Medical Center
3
Graham County Dept. of Public Health
5
Swain County Health Dept.
7
Macon County Public Health Center
9
Highlands-Cashiers Hospital
11
EBCI Public Health and Human Services
12
Jackson County Department of Public Health
14
Haywood County Health and Human Services Agency
15
Haywood Regional Medical Center
16
Transylvania County Department of Public Health
17
Transylvania Regional Hospital
18
Madison County Health Dept.
19
Buncombe County Health and Human Services
21
CarePartners Health Services
23
Margaret R. Pardee Memorial Hospital
24
Henderson County Dept. of Public Health
25
Toe River Health District – Yancey
26
RPM Health District – Polk
28
Toe River Health District – Mitchell
29
Blue Ridge Regional Hospital
30
RPM Health District – McDowell
31
Mission Hospital McDowell
32
Rutherford Regional Health System
33
RPM Health District – Rutherford