Every three years, through WNC Healthy Impact, WNC Health Network compiles a comprehensive regional dataset to describe health challenges and opportunities in the 16 counties in the WNC Healthy Impact region.
The regional dataset is the premier source of meaningful county-level health data in the region and is used to analyze and inform local and regional-level planning for community health. This results in local health priorities.
Using a systematic analysis of the regional dataset, WNC Health Network tells data stories around key regional health issues.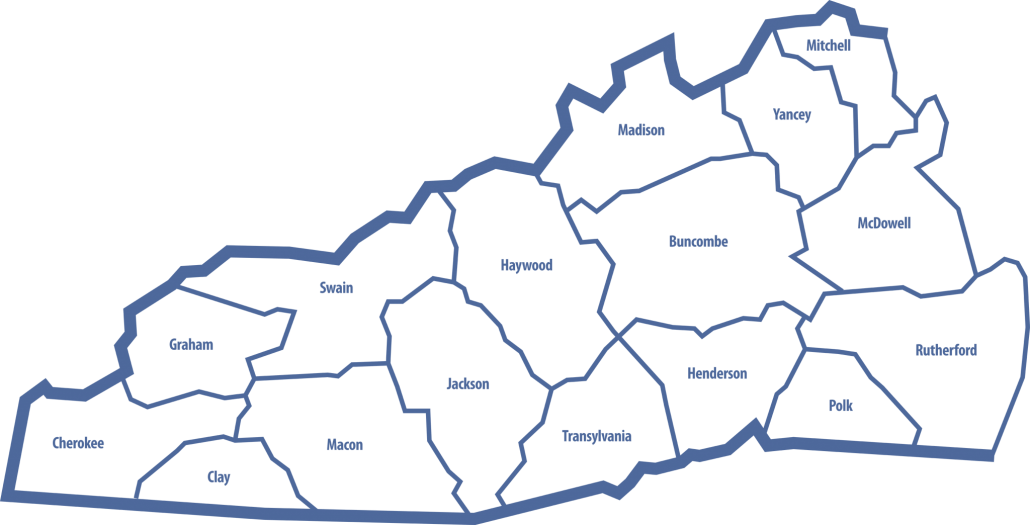 1
Buncombe:
Mental Health

Birth Outcomes & Infant Mortality
2
Cherokee:
Cancer Control and Prevention
Chronic Disease Control & Prevention
Substance Abuse
3
Clay:
Chronic Disease Control and Prevention
Mental Health
Substance Abuse
4
Graham:
Substance Use Disorder
Mental Health
Heart Disease
5
Haywood:
Mental Health & Substance Use
Perinatal & Early Child Health
Chronic Disease Prevention
6
Henderson:
Mental Health
Substance Abuse
Physical Activity and Nutrition

Safe and Affordable Housing
7
Jackson:
Obesity/ Physical Activity/ Nutrition
Substance Abuse Prevention
8
Macon:
Substance Use
Domestic Violence/ Sexual Assault
Overweight/ Obesity
9
Madison:
Physical Activity & Nutrition
Substance Use & Mental Health
10
McDowell:
Substance Abuse including Tobacco
Mental Health and Suicide Prevention
11
Mitchell:
Chronic Disease/ Healthy Behaviors and Lifestyles
Access to Healthcare/ Social Determinants of Health
Substance Abuse/ Mental Health
12
Polk:
Mental Health
Healthy Eating Active Living
13
Rutherford:
Substance Abuse Treatment & Recovery

Active Living
14
Swain:
Chronic disease as it relates to obesity with Swain County community members

Substance use prevention and reducing substance misuse in our community
15
Transylvania:
Mental Health & Substance Use
Healthy Lifestyle
16
Yancey:
Substance Abuse Prevention
Healthy Living Behaviors
Social Determinants
Hover over the map of western NC to view each county's local health priorities. Click on the county to view their 2018 CHA Report as well as contact information to learn more and get involved.
Key Health Issues in Western North Carolina
Beginning in the fall, 2018, the WNC Health Network team spent time understanding the 2018 WNC dataset and uncovering what issues were affecting the most people in our region.
Learn more about this project here.
Click on the buttons to the right to learn more about each key health issue.
WNC Dataset
The WNC Dataset collected by WNC Health Network is available to the public in an Excel workbook. This file format is helpful for those who would like to explore the data beyond what has been highlighted in the key issue data stories.
To access the entire WNC Dataset, we ask that you please share with us a little about yourself and how you are interested in using the data.
Access the WNC Dataset here.
Data Methodology
WNC Healthy Impact's core regional dataset includes secondary (existing) data and primary (newly collected by WNC Health Network) data compiled to reflect a comprehensive look at health. The 2018 WNC Healthy Impact Community Health Survey was conducted from March to June, 2018. The purpose of the survey was to collect primary data to supplement the secondary core dataset, allow individual counties in the region to collect data on specific issues of concern, and hear from community members about their concerns and priorities.  The survey was conducted throughout the entire WNC Healthy Impact region.
Learn more about the data methodology here.